Mental health worsened among women during the first year of the COVID-19 pandemic with disparities by race/ethnicity, income, education and age. Teen suicide, anxiety and depression among youth varied widely across states.
Frequent Mental Distress
Frequent mental distress represents the population experiencing persistent, and likely severe, mental health issues, defined by
14 or more days
of poor mental health a month. A strong relationship exists between the 14-day period and clinically diagnosed mental disorders, such as depression and anxiety.
Postpartum Depression
Nationally, 13.6% of women with a recent live birth reported experiencing depressive symptoms in 2020, an increase of 14% (from 11.9%) since 2014. Out of the 41 states with data,
postpartum depression
was highest in
Arkansas
(23.2%) and lowest in
Iowa
(7.9%) in 2020.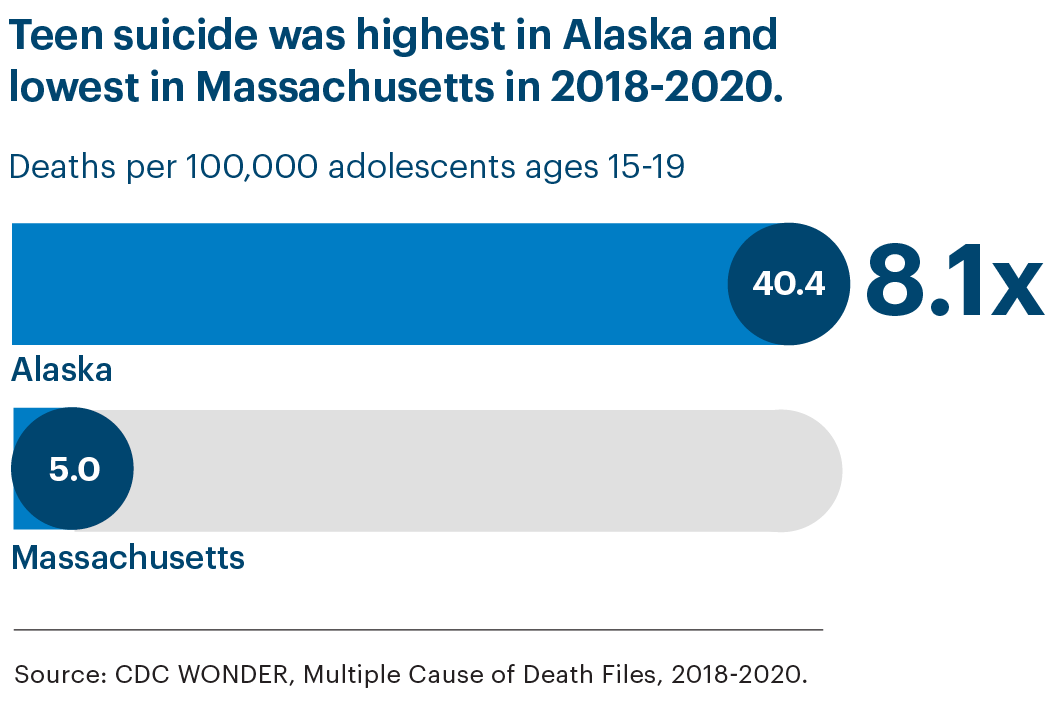 Teen Suicide
Suicide is a serious public health problem, especially among youth, as it exacts an enormous toll due to the years of potential life lost. In 2020, suicide was the
second-leading
cause of death among those ages 10-24 and 25-34.
Anxiety and Depression - Children
Occasional feelings of worry or sadness are normal from time to time. However, if children do not outgrow their fears and worries, or anxiety starts interfering with school and other activities, they might have an
anxiety disorder
. Or if they feel persistent sadness and hopelessness, they may have
depression
. If untreated, mental health disorders can
interfere
with a child's development, causing problems in school and in forming friendships.
Flourishing
Flourishing
measures children's well-being and how well they function and thrive within their family and community. Flourishing in children is associated with higher levels of school
engagement
, and attributes of flourishing have been
linked
with fewer risky health behaviors during adolescence.
The mortality rate among women significantly increased during the first year of the pandemic. Maternal mortality continued to be a major challenge for the U.S., with wide disparities by race/ethnicity.
Mortality Rate
The mortality rate among women ages 20-44 held steady from 2016 to 2019 but increased significantly in 2020. The 10 leading causes of death among women ages 20-44 in 2020 were: unintentional injury, malignant neoplasm, heart disease, suicide, COVID-19, liver disease, homicide, diabetes mellitus, complicated pregnancy and cerebrovascular disease.
Maternal Mortality
The maternal mortality rate in the U.S. has been rising
since 1990
and is
higher
than those of many other developed countries. Between April and December 2020, a
substantial increase
in maternal deaths was reported, coinciding with the COVID-19 pandemic.
Severe Maternal Morbidity
‡ Education and income subpopulations are among women ages 25-44.