Community and Family Safety
The firearm death rate among both women and children continued to rise.
Firearm Deaths
The U.S. has seen an uptick in
firearm deaths
over the last decade. In 2020, there were more than 45,000 deaths by gun violence, the
highest number
recorded. Additionally, firearm deaths surpassed motor vehicle accidents as the
leading cause
of death among children.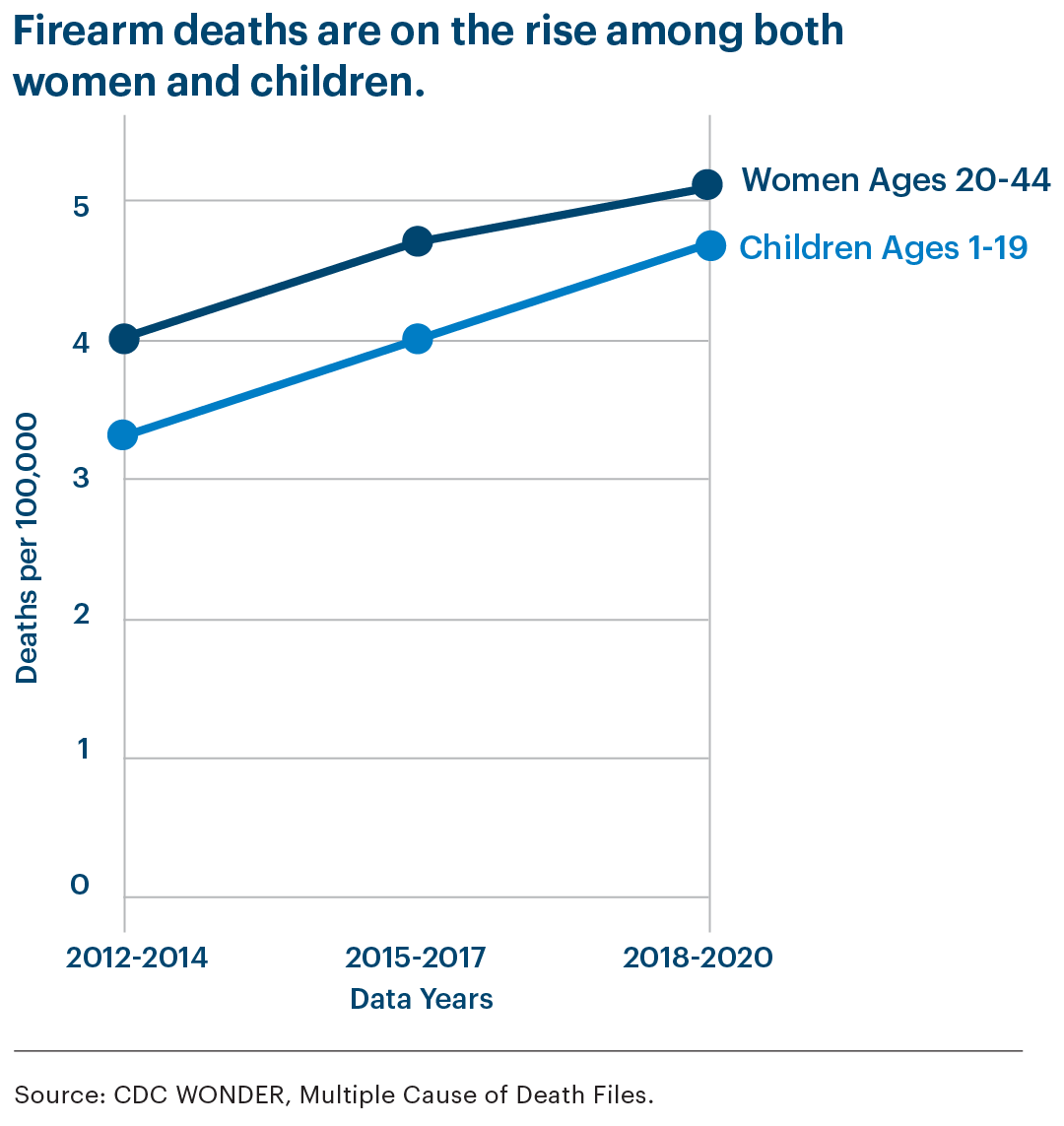 Among women ages 20-44, the firearm death rate (deaths per 100,000) increased 34% in Missouri, from 8.5 to 11.4 since 2015-2017. Among children ages 1-19, the rate increased in 11 states, led by 71% in
Mississippi
(5.9 to 10.1).
Social Support and Engagement
Adverse childhood experiences impact millions of children. Access to neighborhood amenities worsened.
Adverse Childhood Experiences
Adverse childhood experiences
(ACEs) are stressful or traumatic events that can impact children's health and well-being throughout their lifespan. Early
experiences
have a broad and profound impact on an individual's development and subsequent emotional, cognitive, social and biological functioning.
Neighborhood Amenities
Neighborhood amenities
offer individuals opportunities to socialize, play, exercise and enjoy the neighborhood in which they live. There is evidence that safe neighborhoods with opportunities for and access to community engagement and healthy lifestyle habits
contribute
positively to physical and mental health.
The unemployment rate spiked during the COVID pandemic, disproportionately affecting women.
Unemployment
A stable and well-paying job makes it possible for people
to maintain
good health. Unemployment among women decreased between 2017 and 2019 but spiked in 2020 due to the COVID-19 pandemic. The rate among women
peaked
at 15.4% in April of 2020, higher than the overall unemployment rate of 14.7%. Working women composed the majority of the
4.2 million Americans
who left the labor force in 2020, with Hispanic and Black women experiencing a sharper decline in employment. By August 2022, the unemployment rate among women
had declined
to 3.3%.
Concentrated Disadvantage