The majority of US infants and children are receiving key recommended preventive services with 9 out of 10 babies and 8 out of 10 children receiving their recommended baby and adolescent well-visits with a health care provider.
Within the recommended series of early childhood vaccines, more than 90% of children are receiving vaccinations for polio (93%), measles (MMR) (92%), Hepatitis B (92%), and chicken pox (91%). Source: CDC, National Immunization Survey, 2014
Nationally, the measures of clinical preventive services for infants and children examined by race/ethnicity and household income level do not vary as much as the measures of community & environment. For example, there is less variation by race/ethnicity at each income level in the percentage of babies who receive well-baby checks during their first two years (Figure 9) and the percentage of adolescents who receive well-visits (Figure 10). However, significant [†] difference is present in both measures between the lowest (<100% FPL) and the highest (>=400% FPL) income groups across race/ethnicity. In addition, little variation is seen in the percentage of developmental screening (Figure 11) by race/ethnicity and income, even though levels of screening are low across all three race/ethnicity groups.
† Significance based on non-overlapping 95% confidence intervals, ∝= 0.05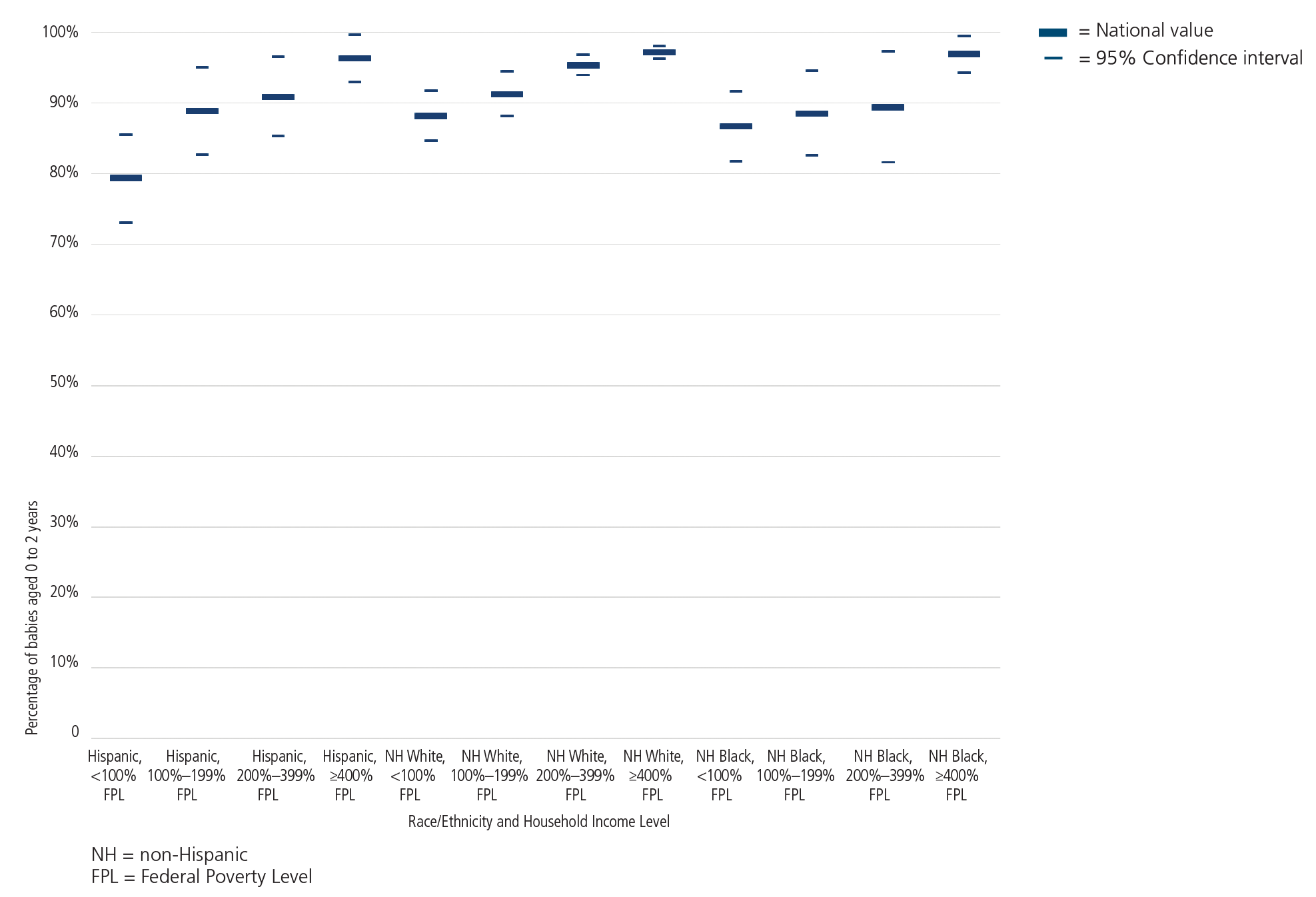 In contrast to services provided in a clinic or hospital, home health visits are provided in the home to remove access barriers related to cost and location. This focused intervention is targeted at children in low-income households. For home health visits, the percentage is greatest among Hispanic, non-Hispanic white, and non-Hispanic black low-income households (<100% FPL) (Figure 12).