Drug and alcohol abuse and dependence by adolescents has a significant impact in terms of economic costs and lives lost. Students who binge drink are more likely to report poor school performance and be involved in other health risk behaviors including smoking, illicit drug use, sexual activity, sexual victimization, and attempting suicide. Adolescent drug users may experience psychosomatic symptoms, poor emotional functioning, impaired relationships, and more trouble with parents and family. While there are a number of risk factors that increase the likelihood of drug and alcohol use, the most consistent factor in reducing usage is social support both from peers and family.
Percentage of children aged 12 to 17 who were dependent on or abused illicit drugs or alcohol in the past year
The connection between education and health has been well documented, spans almost all health conditions, and is evidenced by an array of health outcomes. Educational attainment is closely tied to life expectancy, and there are significant differences within individual racial and gender groups when comparing those with less than a high school education and those with further education. Individuals with more education are less likely to smoke, drink heavily, or be overweight or obese; they are more likely to have a higher earning potential and better employment opportunities, which allows for access to healthier food, health insurance, medical care, and safe neighborhoods.
Percentage of high school students who graduate within four years of starting ninth grade with a regular high school diploma
Childhood obesity, like obesity in adults, is tied to increased risk for chronic diseases such as cardiovascular disease and type 2 diabetes. Children and adolescents who are obese are more likely than those with a healthy weight to be overweight in adulthood. While only 5% of adolescents aged 12 to 19 were obese in 1980, 21% were obese in 2011–2012 and 35% were identified as either overweight or obese. Childhood obesity is responsible for an estimated $14 billion in lifetime direct medical costs, or $19,000 per obese child. The two most important means of preventing childhood obesity are healthy eating and physical activity.
Percentage of children aged 10 to 17 who are overweight or obese for their age based upon body mass index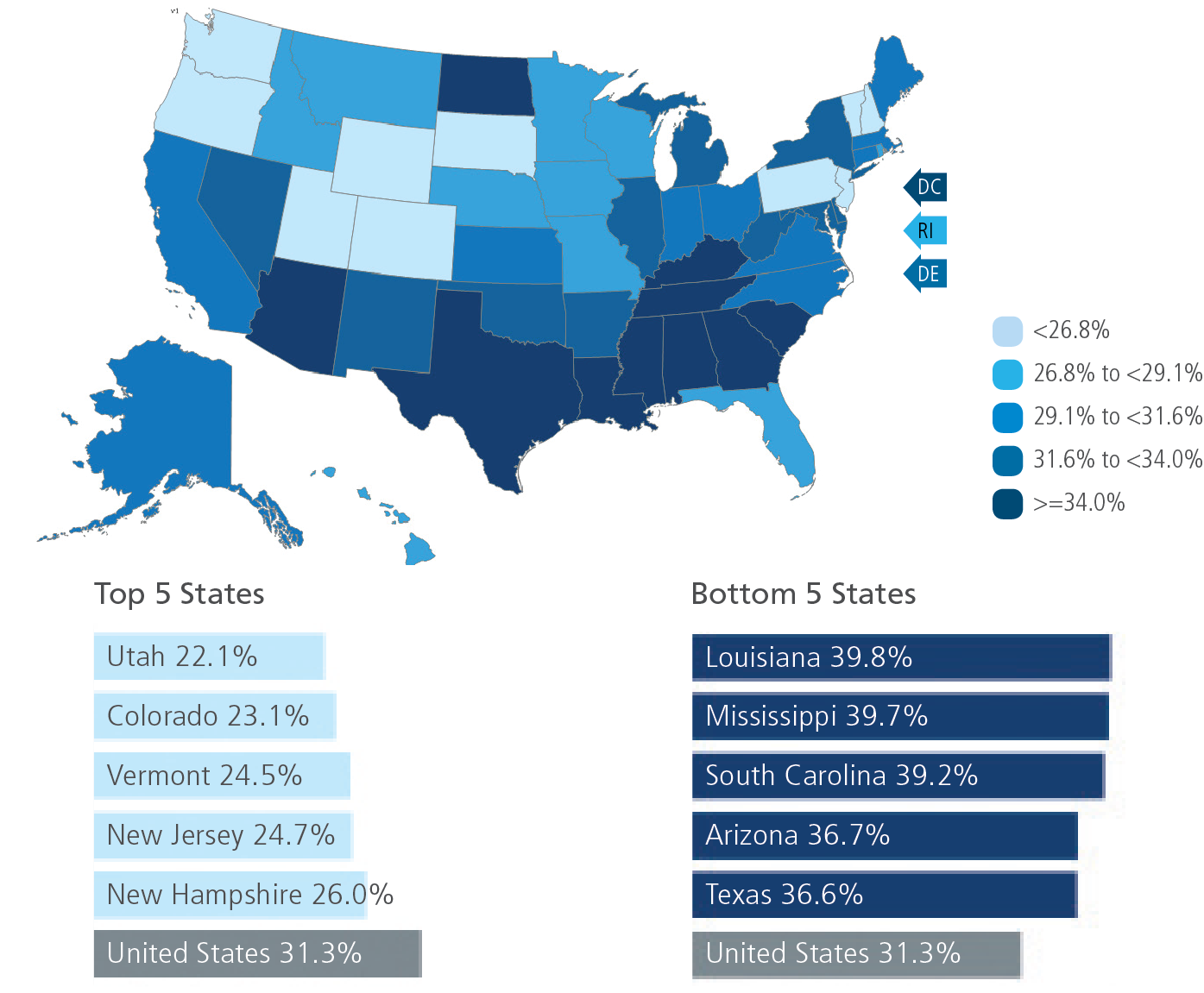 Preventing tobacco use during adolescence is essential to cutting the overall smoking rate, since 9 in 10 cigarette smokers have their first cigarette by age 18. While cigarette smoking has declined among high schoolers in recent years, this has been coupled by increases in the use of other tobacco products, especially e-cigarettes, which may be as addictive and have their own set of health risks. Long term tobacco use has wellknown and wide-ranging adverse impacts on individual health. Users of all types of tobacco are at greater risk for heart disease, cancer, and stroke, and tobacco use is the leading cause of preventable death in the United States.
Percentage of children aged 12 to 17 who used a tobacco product in the past month